What is trafficking?
The word 'trafficking' is often confused with 'smuggling', but it is actually a form of modern slavery. The international definition of trafficking comes from the United Nations Palermo Protocol (2000). This defines trafficking as:
"The recruitment, transportation, transfer, harbouring or receipt of persons, by means of the threat or use of force or other forms of coercion, of abduction, of fraud, of deception, of the abuse of power or of a position of vulnerability or of the giving or receiving of payments or benefits to achieve the consent of a person having control over another person, for the purpose of exploitation."
Trafficking can involve crossing international borders, but it can also happen within the same country, city or town.
Under the Modern Slavery Act, a person commits the offence of Human Trafficking if they arrange or facilitate the travel of another person with a view to that person being exploited.
It does not matter whether someone consents to be moved, regardless of whether they are adult or a child.
What are the main types of trafficking?
Trafficking can take many different forms. They are:
Child sexual exploitation
Forced labour
Child labour
Forced criminality/child criminal exploitation (such as 'county lines')
Domestic servitude
Forced begging.
Organ harvesting
Benefit fraud forced marriage and illegal adoption.
A closer look at internal trafficking and county lines
We know that trafficking can happen within the same country or city.
Large numbers of young people in the UK are exploited in what is known as 'county lines'. The UK government defines 'country lines' exploitation as:
"A term used to describe gangs and organised criminal networks involved in exporting illegal drugs into one or more importing areas within the UK, using dedicated mobile phone lines or other form of deal line. They are likely to exploit children and vulnerable adults to move and store the drugs and money and they will often use coercion, intimidation, violence (including sexual violence) and weapons."
County Lines and Keeping children safe in education (KCSIE) 2018
In the update to Statutory Guidance, Keeping children safe in education, new information was included about County Lines:
Criminal exploitation of children is a geographically widespread form of harm that is a typical feature of county lines criminal activity: drug networks or gangs groom and exploit children and young people to carry drugs and money from urban areas to suburban and rural areas, market and seaside towns. Key to identifying potential involvement in county lines are missing episodes, when the victim may have been trafficked for the purpose of transporting drugs and a referral to the National Referral Mechanism should be considered.

Like other forms of abuse and exploitation, county lines exploitation:
- can affect any child or young person (male or female) under the age of 18 years;
- can affect any vulnerable adult over the age of 18 years;
- can still be exploitation even if the activity appears consensual;
- can involve force and/or enticement-based methods of compliance and is often accompanied by violence or threats of violence;
- can be perpetrated by individuals or groups, males or females, and young people or adults; and
- is typified by some form of power imbalance in favour of those perpetrating the exploitation. Whilst age may be the most obvious, this power imbalance can also be due to a range of other factors including gender, cognitive ability, physical strength, status, and access to economic or other resources.
Download our KCSIE report 'KCSIE 2018: What do you need to know?'
This above information was taken from our online training course that was written in partnership with The Children's Society.
The course also covers:
Who does trafficking affect?
Why is trafficking possible?
How are children and young people recruited?
Grooming
Control techniques
Spotting the signs of trafficking
Case studies
Myth busting
Reporting concerns
Advice and support
The course is included in our comprehensive training course packages or is available to buy online for £18.50 per learner.
Get in touch to find out more.
Return to news

Never miss an update
To receive the latest news and offers, enter your e-mail address below.
Related content: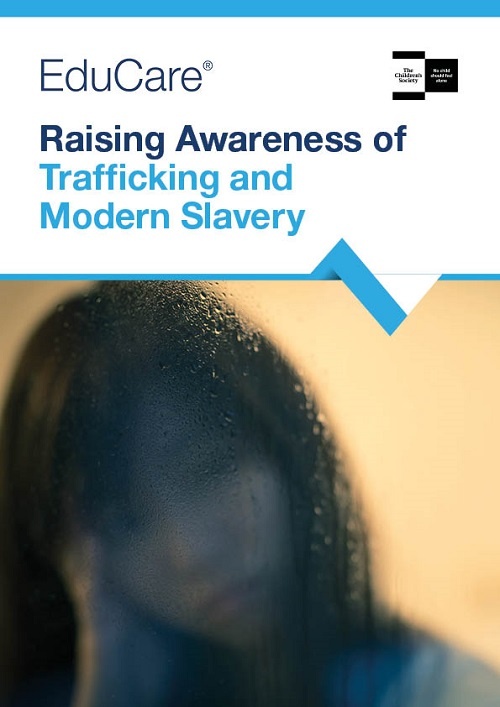 Courses
Raising Awareness of Trafficking and Modern Slavery
The term modern slavery acknowledges the fact that millions of people are still held in conditions of slavery and servitude globally – including in the UK. Written in partnership with the Children's Society, this course raises awareness of this issue.
Read more
Raising Awareness of Trafficking and Modern Slavery
The purpose of this course is to help you understand:
What modern slavery and trafficking are
Different types of trafficking
Who trafficking affects
The Modern Slavery Act 2015
Internal trafficking and county lines
How to spot the signs of trafficking
How to report concerns about a trafficked child or adult

News
EduCare announces partnership with The Children's Society
We will be developing new courses on Modern Slavery and Serious Youth Violence with the national charity.
Read more