Upskirting: What do you need to know?
What is Upskirting?
'Upskirting' is a form of sexual harassment and since April 2019 has been listed a criminal offence.
Upskirting normally involves taking a picture under a person's clothing without them knowing with the intention of viewing their genitals or buttocks to obtain sexual gratification, or to cause upset to the victim. Upskirting often occurs in a public crowded place, making it hard for the victim to know that a photograph is being taken, victims are often distressed and feel humiliated.


Upskirting - a criminal offence
On 12 April 2019, a new law banning the invasive practice came into force across England and Wales and offenders can now be arrested and sent to prison. The criminal offence of 'upskirting' was created under the Voyeurism Act when it received Royal Assent in February 2019.
Police and prosecutors have now updated their guidance to ensure the law is properly enforced – with offenders facing up to two years in jail and being placed on the sex offenders register. The law was changed following campaigning from Gina Martin and other victims, MPs and charities who worked closely with Ministers to create the new law and protect more victims.
At the time, Justice Minister Lucy Frazer said:
"We have always been clear – there are no excuses for this behaviour and offenders should feel the full force of the law. From today, they will.

"By taking decisive action and working closely with Gina Martin and other campaigners, we have ensured more people are protected from this degrading and humiliating practice."
The Voyeurism Act outlaws 'upskirting' where the purpose is to obtain sexual gratification, or to cause humiliation, distress or alarm. This includes instances where culprits say images were just taken 'for a laugh' or when paparazzi are caught taking intrusive images. It creates 2 new offences under the Sexual Offences Act 2003. The changes will cover England and Wales; 'upskirting' is already a specific offence in Scotland.
What should schools do about Upskirting?
Dawn Jotham is EduCare's Pastoral Care Expert, she advises:
"We have already seen a need for schools to adapt and extend their child protection policies to refer to peer on peer abuse. The Department for Education sees upskirting as a form of peer-on-peer abuse so schools now have an additional requirement to include reference specifically to upskirting in their policies.

"What may seem like harmless fun can have deeper consequences for both the victim and the perpetrator and everyone should be made aware of this."
EduCare can help
We have adapted our Raising Awareness of Peer-on-Peer Abuse and Sexual Violence and Harassment between Children and Young People courses to help educate our customers on this specific new addition.
To ensure our customers can access the latest safeguarding training we have included these updated courses in our online learning service. All customers who use the service are automatically able to access the most up-to-date versions of this essential content at no extra cost.
Save money with our online learning service
As budgets continue to be reduced across all schools and educational settings, EduCare remains committed to provide the best value for money online learning service possible.
Because it offers unlimited access, the annual subscription price for our service is based on pupil roll numbers and not per-learner. This unique pricing model means that you should never have to pay more than £2 per-learner, per-course. And definitely less than a Flat White!
Challenge us today and see how much you can save!
Challenge us today and see how much you could save!
Return to news
FREE RESOURCE
Ofsted's New Education Inspection Framework
What do you need to know?
Our free resource includes a breakdown of the key points, including a useful 6-point check to assess if you are following the latest confirmed inspection framework.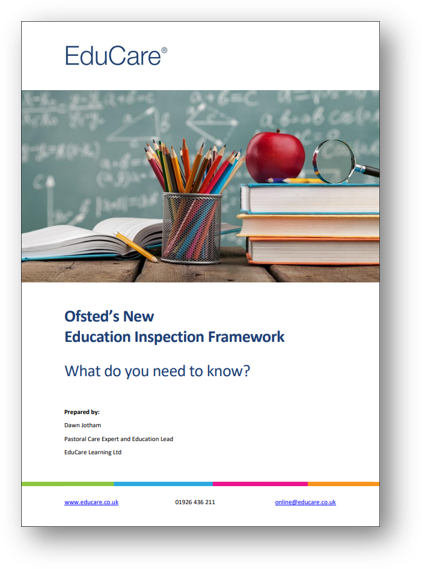 Enter your email address below and we will email you a copy of the full report, prepared by Dawn Jotham - EduCare's Pastoral Care Expert & Education Lead.