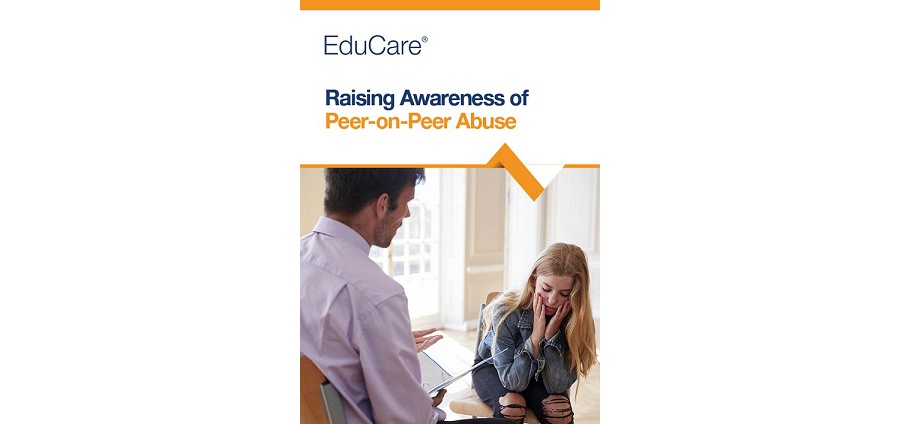 **NEW COURSE** Raising Awareness of Peer-on-Peer Abuse
EduCare is launching a new course to help schools and colleges prepare for the update to Keeping children safe in education (KCSIE).
Peer-on-peer abuse and contextual safeguarding
On September 3rd 2018, the Department for Education (DfE) statutory guidance will come into effect. The guidance includes a more detailed explanation of the ways in which peer-on-peer abuse can manifest itself, and requires all staff, and particularly Designated Safeguarding Leads, to take a contextual safeguarding approach to peer-on-peer abuse. The list of information that schools are required to include about peer-on-peer abuse in their child protection policies has also been expanded, and there is an entirely new Part 5 entitled 'Child on Child Sexual Violence and Sexual Harassment' which is an abbreviated version of the new DfE Advice Sexual Violence and Sexual Harassment between Children in Schools and Colleges (May 2018). The new Part 5 is there to provide guidance for schools and colleges on how they should respond to reports of child on child sexual violence and sexual harassment.
This shows the importance that the DfE are placing on peer-on-peer abuse.
*NEW COURSE** Raising Awareness of Peer-on-Peer Abuse - Only £15*
To help schools prepare for the update, EduCare are launching a new course on peer-on-peer abuse which covers:
what peer-on-peer abuse is
the different types of peer-on-peer abuse
who peer-on-peer abuse may affect and what external influences there are
the prevalence of peer-on-peer abuse
social norms and peer pressure
early signs that might indicate abuse
action to take if you know or suspect that a young person is experiencing abuse
how to implement preventative strategies within school or college.
Pre-order your copy today
EduCare for Education®
The course costs £15* per learner or it may be more cost-effective to purchase our training course package, EduCare for Education®, which contains over 25 other essential safeguarding and duty of care courses that help demonstrate compliance with KCSIE and train all staff for inductions, annual refresher training, or to enhance their knowledge and build their CPD. Course content covers a wide range of safeguarding and duty of care topics, including Child Protection, Preventing Bullying, Online Safety, Safer Recruitment, Substance Misuse, Health & Safety, Fire Safety, Food Hygiene, Mental Wellbeing and the new GDPR.
The new peer-on-peer abuse training course will be added to the package as soon as it released.
*Price excludes VAT. Discounts are available if you need more than 10 copies of the course.
Get in touch to find out more
Return to news