What are the signs and symptoms of concussion?
Concussion is not just a problem on the rugby field. It can happen in many sports as well as in the playground.
Everyone involved in sport and education has an important role to play in the management of concussion.
The 2017 Duty of Care in Sport review, led by Baroness Tanni Grey-Thompson, recommended that:
Training on concussion awareness should be available for all.
All contact sports should consider running a pre-season concussion awareness course.
As the rugby season gets underway and the school sports calendar begins again, we are sharing this content from our Concussion Awareness training course, produced in conjunction with our partners, leading sports medicine company, Return2Play.
What are the signs and symptoms of concussion?
There are many signs and symptoms that may suggest a concussion has occurred. Unfortunately, there is no single definitive list of signs or symptoms that prove a concussion has happened. There may only be one symptom present, or there may be multiple signs and symptoms, but the same management applies to all.
It is also important to note that the vast majority of concussions do not have a loss of consciousness (being knocked out). It occurs in less than ten percent of injuries and is not required to diagnose concussion.
The signs of Concussion - what you might see
If any of the following signs are noted, the injured person should be suspected of having sustained a concussion:
dazed, blank or vacant look
lying motionless on the ground or slow to get up
unsteady on feet, falling over, lack of coordination
inappropriate or unusual behaviour
loss of consciousness or not responsive
grabbing or clutching the head
seizure (fits).
The symptoms of concussion - what the injured person might tell you
If any of the following symptoms are experienced the injured person should be suspected of having sustained a concussion:
headache
dizziness
confusion, or feeling "slow"
visual problems
nausea or vomiting
fatigue
drowsiness, feeling like "in a fog", difficulty concentrating
"pressure in head"
sensitivity to light or noise.
Often people find it difficult to express exactly how they feel, it is common for then to say "I just don't feel right".
Important note
Sometimes the onset of symptoms is delayed by 24-48hrs. If an adult or child has taken a blow that concerns you but there are no symptoms at the time, you should ask them to let you know if they feel unwell at all over the next few days.
Concussion Awareness training course
This content was taken from our Concussion Awareness training course produced in partnership with Return2Play.
The course is available to purchase online or is included in our comprehensive training course packages for schools and sports clubs/organisations.
Get in touch to find out more
Return to news

News
EduCare appoints experienced Sponsorship Manager
As the aftershock of the football abuse scandal continues to affect the Sports and Leisure sector, EduCare have appointed Jo Aldridge, an experienced Corporate Partnerships and Sponsorship Manager to work with our customers and key contacts to help keep sport safe.
Read more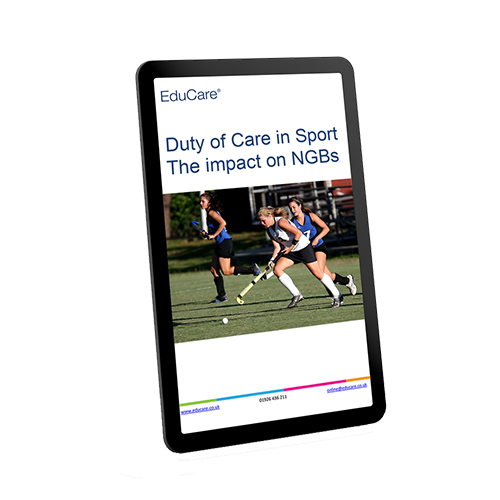 Resources
Duty of Care in Sport – The impact on NGBs
This resource looks at the recommendations made in the report and uses best practice guidance from other industries to examine how these changes can be achieved.
Read more