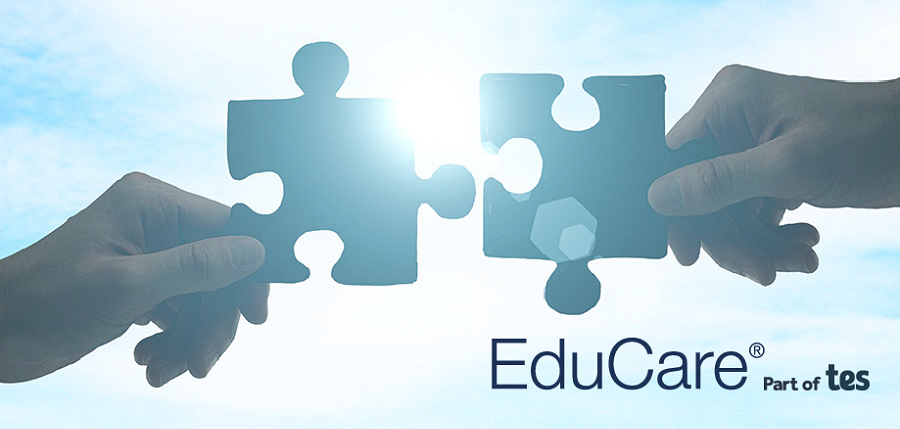 Exciting news about the future of EduCare
We are delighted to announce that, effective immediately, EduCare will be joining forces with Tes Global ("Tes"), our new owners. Partnering with this renowned digital education business is an enormously positive development with huge benefits for EduCare and our customers.
Our important work in education, charities, sport, health, and community services will continue, supporting our core mission to spread good safeguarding practices as far and wide as possible in both the education and non-education sectors.
Tes Global/EduCare press release
London: 28th August 2019
Tes Global ("Tes"), the digital education business, has acquired EduCare ("EduCare Learning Ltd"), the UK's leading provider of essential duty of care and safeguarding training.
The acquisition of EduCare will expand Tes's highly successful teacher training and development arm, Tes Institute, which is now one of the UK's largest qualifiers of teachers. It also further positions Tes as a leading edtech provider of digital services to teachers and schools.
EduCare was founded by Keir McDonald MBE, with a goal of elevating awareness, instilling knowledge and the confidence to act around key safeguarding and duty of care issues. EduCare's highly respected online learning service helps ensure the safety of children and vulnerable people across society and supports institutions in meeting the statutory requirements set out in the Department for Education's 'Keeping Children Safe in Education' (KCSIE) and other guidance.
Combining EduCare's safeguarding products with the existing Tes portfolio is very much in line with Tes's mission to help teachers and schools worldwide improve the lives of children through education.
Rob Grimshaw, CEO of TES Global said:
"We're delighted that EduCare will be joining the Tes family. Teachers and thousands of others who work with children love EduCare's training and we're excited about the opportunity to make it available to the Tes community of more than 11 million educators worldwide.

"EduCare's wide range of courses are used to help keep children safe in schools all over the world, including thousands of English primary and secondary schools. Keir has built a market leading business around a strong vision and a principled approach. Tes will stay true to these values as we aim to extend EduCare's impact even further."
Keir McDonald MBE, Founder and CEO of EduCare, said:
"Since I founded EduCare, its mission has been to keep people safe and eliminate ignorance in areas of duty of care. I'm delighted that this can continue under Tes's stewardship.

"With over six million course completions and one million just in the last 12 months, Tes are absolutely the right company to rapidly build on these numbers; I couldn't imagine a better future for EduCare. Our success in building EduCare could not have been achieved without our brilliant staff and I would like to thank them all for supporting me in my mission."
Get in touch if you would like more information
Return to news