Case study: Akeim Mundell, CHS South
When Akeim Mundell, pastoral leader and school governor at CHS South in Chorlton, Manchester, was first introduced to EduCare's online training courses, it was at the behest of his employer. However, the benefits have far exceeded his expectations and have empowered him to take proactive steps towards safeguarding and ensure he is fostering a safe environment for pupils and the wider school community. Here, he tells us more…
Developing a deeper understanding
I was recently introduced to EduCare's duty of care and safeguarding training courses and was thoroughly impressed by the quality of content. Previously working with other safeguarding resources, I always struggled with the density of the content and the antiquated delivery methods. However, this isn't the case with EduCare. EduCare's training courses are informative yet simple, clear, and concise, and have struck a great balance between contextualising issues and providing a sound general knowledge base.
Additionally, just as our students effectively learn through different pedagogies, so too do educators and staff in the school environment. EduCare has acknowledged this with its comprehensive approach that not only delivers its courses online but also provides supporting materials and videos. Ensuring its courses are user-friendly and engaging is one of the many reasons EduCare has become an invaluable resource for me.
Diversity of topics
One of my favourite aspects of EduCare is its diversity of courses. What's more, since completing my first course, EduCare's offering has only continued to grow! Students and young people are exposed to an infinite number of vulnerabilities so it's comforting to know that I can always find the necessary support from EduCare.
As the pastoral leader at my school, students come to me with a wide range of challenges. These have included anything from sexual violence and harassment between children, online safety, bullying, and mental wellbeing. Importantly, as ongoing topics in education, EduCare's courses have been great for my ongoing CPD. Covering this broad range of duty of care issues, guaranteeing they are compliant with the latest statutory guidance, and endorsed by sector experts has only further instilled my confidence in their resources.
Going beyond our first duty
Working in education, naturally, our first duty is ensuring our students are safe in the school environment. However, as teachers and school staff also know, the school community extends far beyond the classroom and school fence line. Our duty of care needs to also encompass children's home life. Everyday, I work hard to provide a safe and nurturing environment for our pupils as they need to trust me and feel comfortable confiding in myself or other school staff. However, it doesn't stop there. Doing my job effectively, I also need to support and engage parents and guardians with the challenges they and their children may face.
Personally being exposed to violence at a young age, (Akeim was just 13-years-old when his friend was shot and killed as he cycled through a park in Moss Side), I am passionate about providing pastoral care and best-practice safeguarding however, what's also important to me is being able to operate in a preventative manner. The conceptual knowledge I have gained from EduCare has empowered me to do this. Not only do the courses go beyond the surface, they have equipped me with the tools to deal with safeguarding issues quickly and, in many cases, identify potential vulnerabilities at an early stage.
Further, working at a new school, I am currently the only pastoral leader. Catering to many students is a difficult for one person to manage. The expertise I have gained from the courses has meant that I can share my knowledge with other staff but, knowing that my teaching peers also have access to EduCare's training courses is a great relief as it empowers them to also provide pastoral care support.
Our online learning service
Akeim Mundell is the pastoral leader and school governor at CHS South in Chorlton, Manchester. The school and partner schools within the Multi-Academy Trust use our online learning service – a package of over 30 courses that is available on an unlimited basis and can be used by multiple sites and links to an overarching reporting suite.
Return to news

Never miss an update
To receive the latest news and offers, click below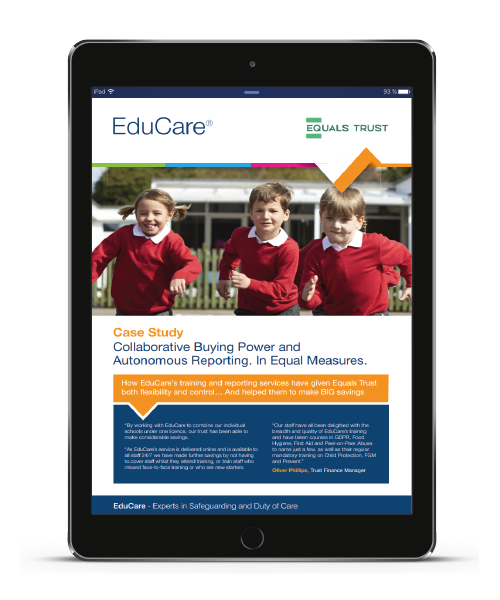 Resources
Equals Trust - Multi-Academy Trust Case Study
How EduCare's training and reporting services have given Equals Trust both flexibility and control… And helped them to make BIG savings.
Read more