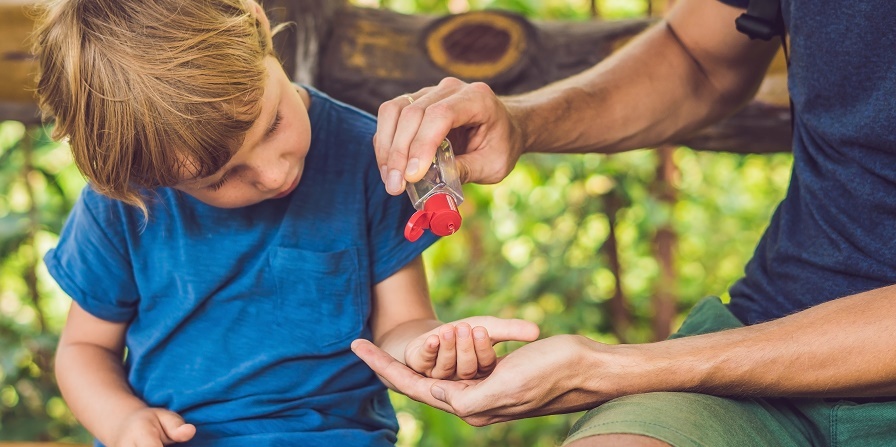 The chain of infection
What causes viruses to be spread and how can they be prevented?
The 'chain of infection' is used to represent the series of steps that allow an infection to be passed from one person to another.
Viruses – a type of micro-organism
We are surrounded by micro-organisms, but they are so small that you would need a microscope to be able to see them. We have about the same number of micro-organisms in our bodies as we have body cells. They usually live in our bodies without causing harm and this co-existence is called colonisation. Some micro-organisms are, in fact, very useful to us. For example, they help us to digest our food.
Micro-organisms which do not cause us any harm are called non-pathogenic, but the ones we are really concerned about are those that are pathogenic and do cause harm. There are different types of micro-organisms, including:
Bacteria

Viruses

Fungi

Parasites
Covid-19

– a type of virus
Covid-19 is an infectious disease caused by a newly discovered coronavirus.
Most people infected with the Covid-19 virus will experience mild to moderate respiratory illness and recover without requiring special treatment.  Older people, and those with underlying medical problems like cardiovascular disease, diabetes, chronic respiratory disease, and cancer are more likely to develop serious illnesses. In addition, people from black, Asian, and minority ethnic backgrounds have proven to be more susceptible although it is not yet known why this should be the case.
The Covid-19 virus spreads primarily through respiratory droplets generated when an infected person coughs, sneezes, talks or breathes. They can also infect others indirectly when the droplets contaminate surfaces which are then touched and introduced into the mouth or eyes of an uninfected person.
How are viruses spread? What are the means of transmission?
The means of transmission is how micro-organisms are passed from one person or place to another, also known as cross-infection.
Direct – person to person, through touch, contact with mucous membranes, contact with blood or body fluids. Being coughed on or sneezed or spat at. A bite that breaks the skin can also transmit infection.

Indirect – person to person via another medium, such as equipment, surfaces, food, animals or insects.
Infection transmission
A combination of circumstances will make it more likely that an infection could be transmitted.
These include:
Lack of awareness – if people are not made aware of infections and how to prevent them, they will be more at risk.

Poor hygiene – not taking hygiene precautions, such as failing to wash hands correctly after using the toilet for example, will spread infection.

Lack of systems to control infection – if there are no systems in place to control infection, it can easily be spread.

Poor work practices – not following the work systems in place to prevent the spread of infection will put people, including yourself, at risk.
Breaking the chain of infection
You can break the chain of infection by employing a range of different control precautions to keep everyone safe
Cleaning and disinfection

Respiratory hygiene

Social distancing

Hand hygiene
Infection prevention and control – online training course
The above information has been taken from our infection control training course written in partnership with the school nurses association, SAPHNA.
The course goes into detail about how to break the chain of infections and has been written to help schools during the Coronavirus pandemic, but also includes information about a range of other infections such as E-coli, Impetigo and Norovirus.
Hear what our customers said about taking the course:
"Clear and concise information. Easy to follow instructions - good use of graphics."

"With the ongoing situation of Covid 19 and its interaction with a whole host of other infections and health conditions, this course content is imperative for teachers. The content is detailed, clear and highly pertinent to our current climate of living with the threat of a global pandemic and trying to keep everyone safe to the best of our ability."

"It was explained calmly and easy to understand"

"Informative and reassuring that our practices are correct. Varied content."

"The information is very clear and straight forward."
Train all staff quickly and easily with our online Infection Prevention and Control course. Report on who has completed and provide personalised certificates for all successful course completions. Verified for CPD and worth 2 CPD credits. Only £18.50 per learner. Discounts are available for 10+ learners. Train staff cost-effectively with our online course.
Infection Prevention and Control in Education course
You can also watch a recording of our recent webinar, Infection control: preparing the school environment for the return of all pupils. Hosted by EduCare and Sharon White OBE (SAPHNA).
Get in touch to find out more
Return to news