The Rise of Cyberbullying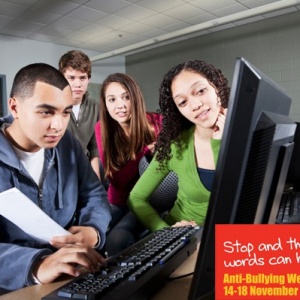 Enlarge
Bullying in any form in completely unacceptable, but there is one form of bullying that is on the rise and giving cause for particular concern. It's called cyberbullying and it has been made possible by developments in information and communication technology. It is an indirect form of bullying via mobile phones and the internet and it follows the bullied into their homes so they have nowhere they can feel private or safe. They may not know who is responsible, and cannot easily defend themselves. It can take place at any time and the cyberbullies can, very quickly, communicate their messages to a wide and unknown audience across the world.
Cyberbullies believe they can't be traced, and therefore do things they might be afraid to do more directly. They may also direct their bullying against adults for example, by making malicious accusations against school staff.
Here are some examples:
text messages that are threatening or spread discomforting rumours
still images and video clips captured on and circulated by mobile phone to cause embarrassment to the subject, who may not even be aware they have been photographed or filmed – this includes "happy slapping": videoed physical attacks
threatening emails, often using a fictitious name or someone else's name
anonymous, silent calls or abusive messages to mobile phones – sometimes the bullied person's phone is stolen and used to harass others, who then think the owner of the phone is responsible
using instant messaging to convey threats or insults in real-time conversations
defamatory messages broadcast on websites, blogs and personal or social networking websites
menacing or upsetting responses in chat rooms.
Here is some guidance on how to generate awareness of cyberbullying and ensure that children and young people realise how very damaging it is:
Communicate to children and young people by devising a lesson about this form of bullying -
Include lots of video links that show how deeply children and young people can be affected by it.
Have a 'tell a teacher' policy so that children feel they are not suffering alone
Ask children and young people to show any nasty messages they receive to their parents or a teacher and tell them never to respond to an abusive message or text - what the bully wants most is a reply.
Teach children about the consequences of their actions and what they can do about the actions of people they know; they need to understand that silence, when others are being hurt, is totally unacceptable
Teach them about how to report bullying using the reporting mechanisms on social networking sites and chat rooms etc.
You could also communicate to the whole school, for example, make cyberbullying the subject of a whole school or year group assembly.
Communicate to parents and carers -
Perhaps write an article for your school newsletter to tell parents/carers about the dangers of cyberbullying and how they can be on the look out for it. Ask them to be aware of their child's internet activity and tell them to use the newsletter article as a way to start a conversation with their child about the dangers of cyberbullying. Make it clear to parents/carers that they should report bullying to the school if they believe any other pupils at the school are involved.
Put the article on your school website, along with your school anti-bullying policy which will detail the measures in place to tackle all bullying, including cyberbullying.
There is an extensive range of information, as well as tools and tips for children and young people of all ages on the website of the 'Child Exploitation and Online Protection (CEOP) Centre' at: http://www.thinkuknow.co.uk Use the link to encourage parents/carers to take a look at how they can educate their children to stay safe online. Better still, encourage parents/carers and children to look at it together.
For teachers, support staff and all adults in your school -
The EduCare for Education online learning service includes an NSPCC EduCare course on Preventing Bullying Behaviour. For more information, please visit: /education
Return to news